Main materials: Fiberglass , P84 , PTFE, Nomex, 50% P84 and 50% Nomex composite
We can produce according to your specific working conditions.
As a factory, we accept customized orders with rapid response.
During Cement production process, there is a lot of dust and gas emissions outwardly. Collect and process the dust-containing gas is the main task of the cement industry and environmental protection. Cement industry dusty gas emissions, depending on the different process.
Tell us your conditions, we can also help you to choose the right economical and high performance filter bags.
Mouth method of filter bag as below, but more...
1. Sewn-in Circular Disc Base
2. Sewn-in Circular Disc Base with Bumper Cuff Reinforcement
3. Snap Band Top to Fit
4. Flange Top with Wire Ring
5. Plain Open Top
6. Open Top with Cuff and Cord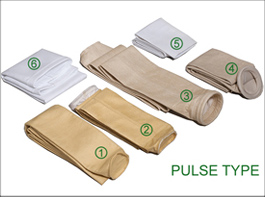 How to business with us?
1. What you need to do?
You just need to tell us your all your working conditions in through details:
Size, material you want;
The former filters you use;
Your working conditions;
All the next jobs will be done by us:
2. What we offer?
Quick response
Quick delivery& Competitive price& stable fine quality
Professional technical and commercial suggestions provided by experienced staff.
Custom-made design
Free samples is accepted if you write to us.
The filtration accuracy and efficiency you want to achieve;
Meet clients demand for controlling dust emission
Meet clients' expectation of long working life
Meet requirement for high cost performance
We are passionate about what we do and we do things right. Contact us, let us help you choose the most economical filter felt for your application.