Air Filter Bags we made but not just these

Pulse-Type Air Filter Bags

1. Sewn-in Circular Disc Base
2. Sewn-in Circular Disc Base with Bumper Cuff Reinforcement
3. Snap Band Top to Fit
4. Flange Top with Wire Ring
5. Plain Open Top
6. Open Top with Cuff and Cord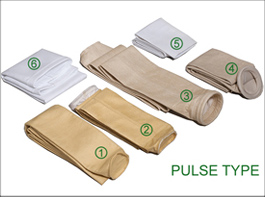 We also offer a variety in coatings, finishes, sizes and configurations
Various fabric weights and treatments such as singed, glazed, PTFE membrane,Ptfe coating, anti-static, fire-retardant, acid resistant and more.
Configurations (Air Filter Bags Construction):
snap band top, A-hanger, raw edge, grommet, cord, loop, strap, disc bottom, disc wear-strip, flange, hem, sewn flat, envelope, compression cap, and more.
We can OEM for all your designs.