Polyester Filter Bag Features
High Durability membrane technology provides an excellent combination of filtration efficiency, airflow, and durability.
Polyester fibers provide good all-around chemical resistance, especially in applications operated below 130°C
Special multifilament scrim design provides excellent dimensional stability and resistance to mechanical damage over the life of the filter.
PE Filter Bag Benefits
More options for coatings, finishes, sizes and configurations.
More choice for fabric weights and treatments such as singed, glazed, PTFE, anti-static, fire-retardant, oleo-phobic, acid resistant and more.
Constructions: snap band top, A-hanger, raw edge, grommet, cord, loop, strap, disc bottom, disc wear-strip, flange, hem, sewn flat, envelope, compression cap, and more.
PE Filter Bag has been widely used in bag filters like
Asphalt plant

Steel and iron
industry

Nonferrous metals industry

Carbon black
industry

Metallurgy industry

Cement plant

Thermal power
plant

Lime industry

Coke industry

Chemical industry


Technical Data of Polyester Filter Bag
Weight:
500-650 g/m

2

(16 oz/yd

2

)

Fiber Content:
Polyester Scrim
Felt Construction:
Supported Needle felt
Continuous Operating Temperature:
120-130°C
Maximum Surge Temperature:
150°C
Acid Resistance:
Fair
Alkali Resistance:
Fair
Hydrolytic Resistance
Poor
Oxidation Resistance
Good
Abrasion resistance
Excellent
Breaking Strength
•
Warp:
1300 N/5 cm
•
Fill:
1500 N/5 cm
Mullen Burst:
4654 kPa (675 psi)
Thickness:
1.2-2.4 mm (0.075 in)
Working life time
8000 hours and more
Pulse-Type PE Filter Bags

1. Sewn-in Circular Disc Base
2. Sewn-in Circular Disc Base with Bumper Cuff Reinforcement
3. Snap Band Top to Fit
4. Flange Top with Wire Ring
5. Plain Open Top
6. Open Top with Cuff and Cord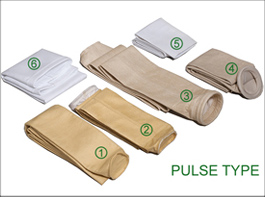 How to buy PE filter bags from us?
1. What you need to do?
You just need to tell us your all your working conditions in through details:
Size, material you want;
The former filters you use;
Your working conditions;
All the next jobs will be done by us:
2. What we offer?
Quick response
Quick delivery& Competitive price& stable fine quality
Professional technical and commercial suggestions provided by experienced staff.
Custom-made design
Free samples is accepted if you write to us.
The filtration accuracy and efficiency you want to achieve;
Meet clients demand for controlling dust emission
Meet clients' expectation of long working life
Meet requirement for high cost performance
We are passionate about what we do and we do things right. Contact us, let us help you choose the most economical polyester filter bag for your application.